Joseph Lakey Obituary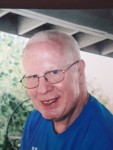 November 9, 1944
-
August 9, 2017
Born in Ogden, Utah
Resided in

Layton

,

UT
Obituary
Joseph "Joe" Heber Lakey, Sr. died peacefully at home on August 9, 2017 in Layton, Utah at the age of seventy-two.
Joe is survived by his beloved wife, Margaret "Marge" Lakey; children, Shelby Cardona, Joe Lakey, Jr., Jeff Lakey, Jason Lakey, Jennifer Hess, Jody Huntzinger, Janelle Gilmore, and Justin Lakey; step-children, Dennis Gilbert, Doug Gilbert, and Deanna Jesse; siblings, Bill Lakey and Fran Richard; thirty-five grandchildren, seventeen great grandchildren, two great great grandchildren, and his adored puppy Rosie. He is preceded in death by siblings, Julia Lakey, Edna Lakey, Betty Bauman, Jim Lakey, Tom Lakey, and Mary Fletcher.
Joe was born on November 9, 1944 in Ogden, Utah to Dewey and Dessie Lakey. He graduated from Ogden High School in 1963. After graduation, he served in the Air Force as a computer programmer until 1968, when he was honorably discharged with the rank of Sargent. In civilian life, he continued his career as a computer programmer at Honeywell.
In 1967, he and his previous wife, Zell Lakey, welcomed the birth of their first daughter, and over the following years, four sons and three more daughters. His work as a civilian government contractor required him to move his family frequently. His older children recall early memories of homes around Virginia and North Carolina, including fond memories of "the chicken farm", and not-so-fond memories of "the haunted house". The last of his children was born in Memphis, Tennessee, where they lived until 1987, when a position opened that allowed him to move his family to his childhood home of Utah. As his children grew and left home, he left Honeywell and pursued other careers as a real estate agent and retail manager.
In 1998 Joe met and married the love of his life, Marge Mealer. They were sealed in the Salt Lake City temple on August 26, 2002. They moved to Layton, Utah to be near the children and grandchildren he adored.
Joe loved the outdoors and camping. He took his family on camping trips to national parks across the country and, after moving to Utah, loved camping with his family in the mountains surrounding Ogden and Layton. He also shared his love of the outdoors as Scoutmaster to his sons' scout troop while they lived in Memphis. He was always active. He enjoyed playing racquetball, and at the age of 53, having never been a runner, he trained for and completed the St. George marathon. In 2010, he suffered a stroke, which severely limited his physical activity, but he continued to walk the neighborhood regularly and spend hours tending his treasured garden.
Joe had a sense of humor that was sometimes clever and sometimes corny—usually a good bit of both. He loved holidays—especially Christmas—and would spend hours cooking and baking with his kids. Putting up Christmas lights and decorating the tree while listening to Christmas records were favorite family rituals, and there was always a huge puzzle spread across a floor or table to work on when the weather kept them indoors. He was a man of faith and throughout his life was an active member of the Church of Jesus Christ of Latter Day Saints.
A memorial service is scheduled for 12:00 noon on Monday, August 14, 2017 at the LDS Meetinghouse at 60 W. Gordon Ave., Layton, Utah, with a reception to follow. In lieu of flowers, please send donations to Humane Society of Utah at 4242 300 W, Murray, Utah 84107.
Services
LDS Meetinghouse
Joe Lakey
60 W. Gordon Ave.
Layton
,
UT
84040