Archibald Stanger Obituary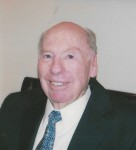 May 12, 1927
-
April 4, 2018
Born in Ogden, Utah
Resided in

Snowflake

,

Arizona
Obituary
On Easter Sunday this year, Archibald Dee Stanger watched peach trees blossom in the backyard. He said it was April fools trick because the blossoms will not produce any peaches. One month shy of his 91st birthday Arch peacefully passed away at home April 4, 2018. He was comfortable under the hood of a car, hunting ducks and pheasants, out on a rock or insulator hunting expedition or at a gun or car show.

Arch was born May 12, 1927 in Ogden, UT the 7th of 8 children. His parents Archibald Stanger and Beatrice Elizabeth Holmes raised him on a farm in Marriott, UT. In 1944, Arch joined the Navy. He served on the McCassier Straight Aircraft Carrier; it's purpose was to train pilots between San Diego, California and Honolulu, Hawaii. While in the Navy Arch never got off the ship in Hawaii. He did maintenance on the ship while others took shore leave. After being honorably discharged from the Navy in 1947; he opened up Arch's Service Station in Ogden, UT. In 1951, Arch married Rachel Ball. They lived in Ogden then moved to Salt Lake City where he share his auto repair skills.

Arch was an exceptional automobile mechanic and businessman. In 1958, he received additional mechanics training at Faris Institute in Big Rapids, Michigan. Returning to Salt Lake City, he worked for Brewer tire as a wheel alignment and brake specialist. 5 years later he owned and operated his own station at 17 East and 13 South. This station near University of Utah served doctors, lawyers and church general authorities. These clients also became his personal friends. When he retired in 1988, he moved to St George and then back to Perry to be closer to family.

Arch entered many restored vehicles in car shows. Once he helped Fred repair a 1930 Plymouth. The previous owner was surprised to see it running at a car show. Arch was pleased when his nephew used the car in his son's wedding. He enjoyed restoring many vehicles for himself and others. He shared a restored 1929 model A truck with the town of Snowflake, participating 8 years in the July 24th parades. One year he even got the Frontier award.

Rachel, Arch's wife of 52 years, died one week before Bonnie's husband Al Welker. Arch and Bonnie exchanged sympathy cards having known each other over 50 years. Arch went to Arizona to see Bonnie and the rest is history. Bonnie convinced him it was time to go on shore and see Hawaii for their honeymoon. Arch loved to share his cooking skills with relatives, neighbors and friends. Bonnie Lou Smedley agreed to marry him in 2003 after he made her a birthday cake. Since they have been married he has made her 15 chocolate cakes with chocolate frosting. They spent the last 15 happy years together in Snowflake, AZ.

Arch is survived by: his wife Bonnie, a sister Sharon Turnbloom of Bountiful, UT, Fred (Laura) Mitchell of Clinton, UT, Collette Buchanan, all you beloved nieces and nephews and grandchildren and many nurturing friends.

We are sure he has had a wonderful reunion with loved ones on the other side of the veil. We miss his infectious smile, gentle heart and encouragement for peace on this earth.

Family and friends may visit on Friday, April 13, 2018, from 6 to 8 p.m. and Saturday, April 14, 2018, from 10 to 10:30 a.m. at Myers Mortuary, 845 Washington Blvd., Ogden. Graveside services will be held on Saturday, April 14th, at 11 a.m. at the Ogden City Cemetery, 1875 Monroe Blvd, Ogden, where military honors will be given.
In lieu of flowers, please donate to the LDS Missionary fund.
Services
Visitation
Myers Mortuary of Ogden
845 Washington Blvd.
Ogden
,
UT
US
84404
Graveside Service
Ogden City Cemetery
20th and Madison
Ogden
,
UT
US
84404