Darvel Robbins Obituary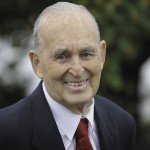 November 1, 1928
-
January 24, 2019
Born in Tremonton Utah
Resided in

Clinton

,

Utah
Obituary
Darvel Melvin Robbins, age 90, passed away in Layton Utah, while surrounded by his loving family, the morning of January 24th, 2019. Darvel was born on November 1st, 1928, in Tremonton, Utah, to Melvin Alfred Robbins and LaVean Christensen. He was the eldest of 3 children.

A gregarious classmate, he participated in many high school activities and was the student body president of his class at Bear River High. Following high school he served an LDS mission in the United States Northwest Mission. He served in Washington, Oregon and Montana. At Brigham Young University, he met his future wife, Velda Brown, and graduated in 1954. They were married in the Salt Lake City LDS Temple on February 10, 1954.

As an ROTC graduate, Darvel entered the Air Force and began his family while serving in Clovis, New Mexico. After completing his service with the Air Force, he returned to Utah with his young family. His early career years included sales jobs at JC Penney where he loved working with the public. He also earned a Master's Degree from Brigham Young University as he settled into a career with Job Service. There he made many friends and helped countless individuals find jobs, including many veterans. He loved to work with people. After raising all his children, he retired in 1986, and began relishing his role as a grandfather and great grandfather.

He loved his wife and family and they love him. Mom and Dad took the family on car trips to many interesting destinations Florida, Arizona, New Mexico, Idaho, and Wyoming. Being together on an adventure was exciting to all. His talents and pleasures included humor, music, and dancing with his sweet wife. He loved to entertain friends and family with a humorous story, a song, or most often clever jokes. Some of his favorites to perform included "Melody in F" (the story of the prodigal son), "Casey at the Bat", "Seagull Poaching" and "The Cremation of Sam McGee". When his family visited, he would often share a new saying, play his favorite dance tunes for them on the stereo, and usually fed them food and treats. Darvel loved to buy fresh corn and raspberries and then give them away to any visitors. He was the one that brought the cookies home and enjoyed treating his children. Most recently, he spent 5 devoted years as the primary caregiver to his beloved wife, Velda, until just before her passing - a great manifestation of his love for his family.

Darvel was an active member of the Church of Jesus Christ of Latter Day Saints. He served in the Bishopric, Sunday School and Young Men's program for many years. Darvel and Velda served a Stake Mission in Barstow, California while Velda taught for three years in the Silver Valley School District.

They served as temple workers as well as in many other church service positions throughout their lives. He and Velda taught their family to know and love God and their neighbors through their teachings and example in the home and community.

Darvel was honest and reliable. He made it a point to remember and use people's names to show they were important to him. He had a command of names that was amazing! His favorite hymn was, "Have I Done Any Good in the World Today?" He said it had a great message that inspired him to live a life of service to others. Many have been recipients of his goodness. It was a great companion trait with his need to be constantly doing something and not waste time.

Darvel is survived by his children: Kelly Robbins, Steven (Connie) Robbins, Mark Robbins, Sheila (Jeff) Kirkham and Tom (Heather) Robbins; 20 grandchildren and 31 great grandchildren. He leaves behind a sister Geraldine Whiting, and a brother, RonDell Robbins. He was proceeded in death by his parents; his wife; and two daughters-in-law, Connie Rae Voss and Christine McMurtrey.

His family would like to thank all those who enriched Darvel's life and gave him service, with a special thanks to Randy & Lisa Grange, Chris, Joyce, the Sandman's, his friend Stephanie, and many members of the Clinton 1st Ward. Also, to all the caregivers who kindly helped him with his physical difficulties in his last weeks.

A viewing will be held on Friday, February 1st, from 6 to 8 p.m. at Myers Mortuary (5865 S. 1900 W.) in Roy, Utah. Funeral Services will be Saturday, February 2nd, at 11 a.m. at the Clinton Utah Stake Center (1288 W. 1300 N.) in Clinton, Utah. Before the funeral service, there will be a viewing from 9:30 to 10:30 a.m. Interment will follow at approximately 2:30 p.m. at the Riverview Cemetery, 200 E. 1200 S., Tremonton, Utah.
Services
Visitation
Myers Mortuary - Roy
5865 South 1900 West
Roy
,
UT
US
84067
Visitation
Clinton Stake Center
1288 West 1300 North
Clinton
,
UT
US
84015
Service
Clinton Stake Center
1288 West 1300 North
Clinton
,
UT
US
84015