Edwin Anderson Obituary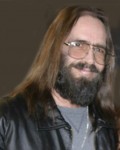 August 11, 1964
-
January 1, 2019
Born in Dillon, Montana
Resided in

Ogden

,

Utah
Obituary
Edwin Lee Anderson was born August 11, 1964 in Dillon, Montana to Oscar and Susan Anderson. He was a bouncing 9 lb. baby boy and was adored by his mother and father as well as grandparents Lee and Henreatta Anderson and Elaine (Nana) Butner. Lee was a happy and loving boy but stubborn and adventurous. When he came into the world, he was welcomed by 2 aunts on Susie's side (Katherine and Virginia) and 3 aunts (Betty, Laura and Mary Anna) and 3 uncles (Billy, Richard and Jimmy) on his dad's side. In short order he was joined by 2 sisters (Crystal and Kathlina) and 1 brother (Mark).
Lee was part of a traveling family (Dad worked for Dept of Interior) and when he was 5 years old moved to Elko, Nevada. He started kindergarten and walked 2 blocks to school with his mom following behind until he turned around and told her to let him walk alone, part of his independent side. Lee grew up following his mom and dad during fishing and hunting trips and therefor developed his love for the outdoors, especially for fishing. He loved animals, especially dogs and the family raised registered lab puppies.
In 1976 the family moved to Boise, Idaho for a job promotion for Dad and to be closer to Susie's side of family. He continued in his love of the outdoors camping, fishing and hunting. Upon graduation from Borah High School he joined the Air Force. At enlistment he scored the highest hand/eye coordination so far recorded in Idaho. His Air Force career was short lived, again due to his independent nature.
In 1984 the family moved to Washington D.C. but Lee did not join the family. He roamed about the east coast for several years.
When Lee moved back west, he settled in Ogden, Utah and met and married his true love, Dianne. They were married for 25 years.
Lee ran his own business as a Handyman. He was good at construction and electrical work and could fix just about anything. He focused on the elderly to be a blessing to them to help them with big jobs as well as small jobs. Gardening, remodeling, painting, moving, fixing anything broken, and putting up Christmas decorations. Many elderly customers would call him year after year for anything that they needed help with and many "adopted him" as a Grandson as they were so thankful for Lee and his help. He was a pallbearer at a one of these customers funeral, they considered him Family. He also had the opportunity to work with young men on his crew and was able to teach them many things, some of them call him Uncle, and they had formed long lasting relationships. He truly blessed so many people being a handyman. He serviced from Ogden to Clearfield, Utah.

His love for dogs continued and he eventually acquired Spirit, a beautiful white Great Dain/Wolf cross. They were inseparable pals for many years. He had several dogs including a Chow/Husky, named Bear, a Rottweiler Malamute mix, Ezekiel Lee, a Chow Waidi Love, a Chihuahua Little Bit, a terrier Levi, a Boston terrier Bongo and a Poodle Lance. He liked having a big, medium and a small Dog all at once. He loved spending time with them and training them. After he lost Spirit, he got a Great Pyrenees puppy Samson Leo and they were partners until the puppy was 160 lbs. and Lee lost his battle with cancer and pneumonia. He also leaves behind a Blue Healer, Raivin Lillee and a terroir Levi.
Lee loved the Bible (KJV) and would hold impromptu Bible studies at his home with his friends. He liked taking the Word back to the Greek language and using a Concordance to aid in understanding each scripture. He was publicly baptized a Christian on March 19th 2011, He had wanted to be baptized or many years. It is a blessing to know that he now lives with his Savior in Heaven, Jesus Christ.
2 Corinthians 5:8 King James Version (KJV)
"8 We are confident, I say, and willing rather to be absent from the body, and to be present with the Lord."
He is missed by family in Idaho, Utah, Arizona, California and Nevada. He leaves behind his wife Dianne, his daughter Amber and her family. His son Trevor and his family. Numerous aunts, uncles, cousins his parents and siblings. We all love you deeply and miss you, Lee.
Services
Memorial Service
Myers Mortuary of Ogden
845 Washington Blvd.
Ogden
,
UT
US
84404