James Scoffield Obituary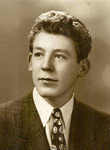 December 27, 1927
-
January 8, 2013
Born in Salt Lake City, UT
Resided in

Ogden

,

UT
Obituary
James Carter Scoffield
click here to listen to Funeral Recording


Our loving, intelligent, enterprising, hard-working, sometimes cantankerous, opinionated and obstinate husband, father, brother, and friend, James Carter Scoffield, left this existence and was received into the open arms of his savior and earthly parents, Syvil James and Louisa Thurgood Scoffield, on 8 January, 2013, in Ogden, Utah, following a short illness 28 years to the day after his father's death. He entered his earthly existence as a Christmas present on 27 December, 1927, in Salt Lake City and joined his older sister, Lou Jean in the growing family and was followed by his sister, Carol and much later by sister, Rosa Lee, and even later by his brother, William. Due to the length between the births of these children, you could count on one hand the number of times all five siblings were together until recent years. Jim became a member of the Church of Jesus Christ of Latter-day Saints when he was baptized at eight.

Born on the eve of the Great Depression the family soon made their way to Twin Falls, Idaho, where they went to find work and ended up living one winter in a tent. They eventually returned to West Point, Layton and finally Ogden, Utah, where Jim graduated from Ogden High School. He joined the Navy at age 17 as World War II was winding down and wanted to be a pilot. They weren't training pilots at the time so he was trained as an aerial photographer thus he was still able to fly while taking pictures. He never lost his passion for flying which began with making and flying model airplanes as a young man so it was natural that he finally purchased his own plane, old 74-One-Niner-Whiskey, which he piloted to jobs throughout the country. It was a sad day in his life when he could no longer pilot his airplane.
Following his release from Navy he enrolled in the architecture program at Cal-Berkeley and while in the area he married Ruth Nye, an old acquaintance from Ogden, on 25 April, 1950 in Reno, Nevada, in which he became an instant father to Johnnie and Robert Rice. The family expanded to include daughters, Dixie and Diane. The family lived in San Francisco then San Bruno, California. Jim finally returned to Ogden following a divorce and established his own business. The Carter Company, named such to tease his mother who was so proud of her Carter ancestry. It later became Carter Telescopic Platforms as he designed, built, and installed retractable seating in stadiums and conference centers all over the United States including the Dee Events Center, the Marriott Center and Rice Stadium. He was always working to develop ways to make the installations quicker, easier and more effective. He created a rolling platform for the drill at the exact height to make the holes for each seat. Jim put his father to work sorting the thousands of numbers for all the seats so they were in order to immediately be installed as the person traveled down each row. It was another sad day when he sold his business due to advancing age and declining health.

While in Ogden he met and married Karen Brewer on 11 December, 1971 in Las Vegas, Nevada, and became father again to James, Rebecca, David and Richard. Jim later adopted Becky. The family made their home in North Ogden. Jim became the surrogate father to many mallard ducks which he kept in his backyard. He would be present when the ducks hatched so he would be imprinted in their minds that he was the mother. As a result, the ducks followed him all around. His wife Karen has a beautiful singing voice and Jim loved hearing her perform with the Southern Pacific Men of Song.

Jim is survived by his wife, Karen; daughters, Dixie Scoffield of Port Townsend, Washington, and Diane Thorn of Sumas Washington and Kennicott, Alaska; step-sons, John Rice of Pacifica, California, and Robert Rice of Ketchikan, Alaska; step-sons, James Cornell, David Cornell, and Richard Cornell of Ogden, Utah; siblings, Lou Jean Packer of Farmington, Utah; Carol Peterson of Ivins, Utah; Rosa Lee and Noel Sill of West Point, Utah; and William and Cherie Scoffield of Fresno, California; two living grandchildren; 23 step-grandchildren and one great-grandchild. We will all miss our annual outings each Memorial Day to our parent's graves and luncheons at Olive Garden.
Besides his parents Jim will meet beyond the veil his daughter Becky Scoffield, and granddaughter, Sarah Thorn. What a story he'll have to tell them.
Until we meet again "Happy Flying Big Bro"!
Karen wishes to especially give thanks to Noel Sill who faithfully made numerous trips to appointments for Jim and Karen when they were unable to drive themselves. Jim and Noel had a marvelous time during these trips swapping "war" stories.

The family also wishes to thank the doctors and staff at the Veterans Hospital in Salt Lake City who showed such care and concern during Jim's stay there; and the personnel at Wasatch Care Center who made Jim's last days comfortable.

A celebration of Jim's life will be held at 11 a.m. on January 14, 2013 in the North Ogden 20th Ward, located at 3100 North 550 East North Ogden. A viewing will be held on January 13, 2013 from 6-8 p.m. at Myers Ogden Mortuary, 845 Washington Blvd. and also prior to the services at the church from 10:00-10:45 a.m.

Jim will be laid to rest in the Ben Lomond Cemetery next to his daughter immediately following the services.
Services
Visitation
Myers Mortuary - Ogden
100 Monroe Blvd.
Ogden
,
UT
US
84404
Service
North Ogden 20th Ward
3100 N 550 E
North Ogden
,
UT
US
Cemetery
Ben Lomond Cemetery
526 East 2850 No
North Ogden
,
UT
US
84414