Keifer "Beef" Deamer Obituary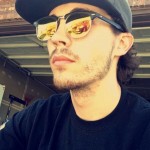 Keifer "Beef"
Lee Scott
Deamer
March 13, 1997
-
March 7, 2018
Born in Ogden, Utah
Resided in

Ogden

,

Utah
Obituary
Keifer "Beef" Lee Scott Deamer

Beef Man Lee was lightning in a bottle. Behind those crystal blue eyes, traditional tattoos, and instagram famous looks, was the heart of a kid who cared deeply about what really mattered, his family. I know he is looking down on all of us, calling us... well the polite thing to say is wimps, for sitting around crying over him. He never wanted anyone to be sad around him. His charm didn't just come from his recently removed "man bun", sweet kicks, and meme lord witty shirts. His charm came from his actions.

The care he took to include his little sister Piper in his life and to truly open up to her and trust her. He loved her deeply and although he ribbed her for everything from her haircut and choice of band instruments, he would always send her the funniest memes or videos he found. She was the first person he would talk to when something wonderful or tragic happened to him, and for the life of us, we couldn't convince her to spy on him for us, much. They shared more than blood, they shared a collective hopeful but sarcastic view of the world. He will forever live on in her smile and quick-witted remarks when someone says or does something that they need to be teased about. She will not let us forget that we deserved that, and neither would he.

The carefulness that he would take when making up to his little brother Jack after doing what he did best, teasing and whooping him in Call of Duty or any video game for that matter, to ensure that he never gave up was calculated and special. He took the time to show him how to be a man. He taught him how to take great sniper shots. He taught him to ride a bike. He even jumped over Jack once to prove how cool he was, and Jack eagerly agreed, because he trusted Beef. He taught Jack to dress "swaggy" because you never know when you may see a hot girl. He never went easy on Jack. He never let him win. He challenged Jack to improve, and he wasn't going to let it be easy, because Beef knew that Jack would need to be strong one day.

His actions showed that he cared. His actions proved he was the Alpha, or at least he would tell you so much that you just accepted it. His friends' adoration meant the world to him. His shenanigans were legendary and he always pranked everyone with a mischievous smile on his face and took care not to get caught … most times. He would want his bois to make sure that they kept the group text alive and to keep sending inappropriate snaps to each other. Just leave Jack out of it for at least a few more years.

He was our first. He was the one that was going to inherit the kingdom. The first born. We will never be whole again, and the world lost an opportunity to add more beautiful people in it, inside and out. We worked to spin the Karma wheel forward as far as we could, hoping that only good things would come to our family and that we would be protected from tragedy, but alas, we have been cheated. The only comfort that we have found is in the arms of our family and community. It takes a great tragedy to show how wide and deep the hole in our hearts will be. It takes everyone to pour a little part of them self into that chasm to fill it up. We know that we can fill it because of all of you. We would like to thank everyone in the community and our family for the love that has been sent our way.

He is survived by many more that we could list, but first and foremost his sister Piper, and his brother Jack. His father Tyler and his mother Tiffany. Brandon, Heidi, Spencer, and Braeden. Danny, Tori and Phoenix, countless grandmas and grandpas, aunts and uncles, cousins and homies. We are comforted he will be there waiting for us. In lieu of flowers, please buy your local car club kid a part for his sleeper or get a tattoo that Beefs mom would approve of.

A celebration of his life will be held at the 801 Hub in Ogden on Friday the 16th of March, 2018. From 5-10 pm. From 5-6:30 folks that want to offer their condolences to the family and who may be offended by his music selection can come by. From 6:30 to 10 we will celebrate him in the best way we know how, telling stories and jokes and holding onto one another. The only request for the night is to wear "Keifer" Purple, Grey, or White.

Arrangements entrusted to Myers Ogden Mortuary.
Services
Celebration of LIfe
801 Hub
3525 Riverdale Road
Ogden
,
Utah
84405