Matthew Nielsen Obituary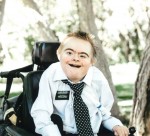 Matthew
Steven (Mattman)
Nielsen
February 22, 1993
-
February 10, 2018
Born in Ogden, Utah
Resided in

Marriott-Slaterville

,

Utah
Obituary
Matthew Steven Nielsen
February 22, 1993 ~ February 10, 2018
Click here to listen to the funeral recording.


Our sweet, happy, radiant, son, brother, uncle, cousin, and friend Matthew Steven Nielsen peacefully returned to his Heavenly Father on Saturday, February 10, 2018 at his home in Marriott-Slaterville, Utah, while being held by his loving mother and father.
Matt (Mattman) was born in Ogden, Utah on February 22, 1993, to Dennis M Nielsen and MeLisa Pitcher Nielsen. He was the second of three children.
Matt was born with Down Syndrome and had many heart defects. By the skilled hands of the miracle doctors at Primary Children's hospital, his small heart was repaired when he was 18 months old.
Matt developed on his own schedule, leaving us always wondering when and what was next. When Matt was 4-1/2 years old, it was discovered that he had a Brain and Spinal Cord tumor. The skilled hands of the Neurological Surgeons of Primary Children's Hospital were able to release the pressure of the tumor on his body. Matt was able to return to his home with the dependency of technology (ventilator and wheelchair). Matt attended Early Intervention at Weber County Schools.
He was then mainstreamed at First Grade, at West Weber Elementary. Where he was accepted and loved by his fellow classmates and school faculty. He loved riding the school bus and attending school. Matt then attended Wahlquist Jr. High and Fremont High School. He loved the years that he attended Fremont High. Where he was befriended and loved by the awesome student body and faculty. His most happy years of school was being a Silverwolf and attending graduation with his class mates. In his words, "It's a beautiful day at Fremont High". After he left Fremont High at 21 years of age, he was called by The Church of Jesus Christ of Latter-day Saints as a Young Service Missionary in the Ogden, Utah Mission, to serve at the Deseret Industries in Ogden, Utah. Matt loved to serve Jesus with his fellow Elders and Sisters. He completed his mission honorably. Matt then spent his final years enjoying time with his family and friends (including CNA's and Nurses).
From his very young years he was a Utah Jazz Fan. He loved attending the games with his family and met wonderful new friends. He was also a ReAL Salt Lake Fan, beginning with their inaugural season. He loved to attend the RSL games with his Dad, brothers, and friends. It was always a party when watching either the Jazz or RSL on TV.
He is survived by his parents; sister and brother Zach and Dani Krum and brother and fiancé Brayden Nielsen and Alli Norris; Grandparents Maurice and Linda Pitcher and Shirley Nielsen and many aunts, uncles and cousins. He was preceded in death by his Grandfather Claire A. Nielsen and cousin Kristen Perkins.
Special thanks to the Loving Care of Matt's physicians Dr. Frank Kramer, Dr. Kathleen Pfeffer, and Dr. N. Brent Williams. His loving Nurse Patty and the Nursing staff of Ivy Lane Pediatrics. Who gave endless love, care, friendship, and support to our entire family. To David and others of IHC Home Care for their love and support. And to Russell at IHC Hospice for the constant support during the recent months.
Funeral Services will be held on Thursday, February 15, 2018, at 10:00 a.m. at the Mill Creek Ward Chapel 250 North 1500 West Marriott-Slaterville. Friends may visit family on Wednesday, February 14, 2018, from 6 to 8 p.m. at the church and prior to services on Thursday, from 9:00 to 9:45 a.m. Interment, Wellsville City Cemetery.
In lieu of flowers, the family suggests donations be made to Primary Children's Hospital at: www.give-internationalfoundationorg/Primary-childrens-hospital. Or to Make-a-Wish Foundation.
Arrangements entrusted to Myers Ogden Mortuary.
Services
Visitation
Mill Creek Ward Chapel
250 North 1500 West
Marriott-Slaterville
,
Utah
84404
Service
Mill Creek Ward Chapel
250 North 1500 West
Marriott-Slaterville
,
Utah
84404
Burial
Wellsville Cemetery
400 North 200 East
Wellsville
,
Utah
84339