Nathan Harris Obituary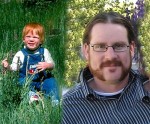 April 13, 1976
-
March 20, 2019
Born in Richfield, Utah
Resided in

North Ogden

,

Utah
Obituary
Nathan Ricks Harris
04/13/1976 - 03/19/19

Nathan (Nate) Harris was born to Richard and Marilyn Harris on April 13, 1976, in Richfield Utah, as the 7th child and 6th son in a loving, happy family. On Tuesday, March 19, 2019, our dear brother, father, uncle, and son, Nate, returned to our Heavenly Father.

In 1983 Nate moved with his family to North Ogden, Utah, where he attended Bates Elementary, North Ogden Jr. High, and Weber High, from which he graduated in 1994. Nate grew up loving music, being outside, and was particularly proud to be on Weber High's first swim team. Nate had some wonderful friends in high school and together they made some incredible, hilarious, fond memories.

Everyone who knows him knows that Nate was one of a kind and always made us laugh! He was a smart, original thinker and was happy to engage in a debate with anyone, including his teachers. People loved to be around Nate, especially his family.

Nate served a mission for the Church of Jesus Christ of Latter-day Saints, serving in the New York Utica Mission. He loved the people of upstate New York. After his mission, he returned home and attended Utah State University where he graduated with his bachelor's degree in Philosophy and History. While he attended Utah State, Nate met Amy Christensen and together they had the love of Nate's life, his beautiful daughter, Moran. Though Nate and Amy did not stay together, Moran was always the most special thing in his life.

Shortly after graduating college, Nate decided to join the Peace Corps and was stationed for two years in Ulgii, Mongolia, to teach English and health to young people. This was one of Nate's greatest adventures and he came home with many cherished memories of the people he met and cold nights spent out on the grassy steppes living as a nomad.

After Nate returned home from Mongolia, he spent a short time in Logan, Utah, and then moved to Seattle, Washington, where he met his love, Taemi Lim. Nate and Taemi moved from Seattle to Michigan so she could attend graduate school and where Nate began his career at Whole Foods. After Taemi graduated, they moved back to Seattle. Nate loved the Pacific Northwest and considered Seattle his true home.

While he was near Detroit, Nate discovered baseball and hockey and (even though some years it was hard to admit) was a loyal Red Wings and Tigers fan. His favorite season was spring and he never failed to remind us that it was opening day at Safeco Field.

Nate loved being outside, walking his dogs Maximus and Titus, cooking over his charcoal grill, listening to music, and reading/studying philosophy. One of Nate's best qualities was his tender heart and his empathy for others.

Early last year, Nate returned home to his roots in North Ogden and we will always cherish the chance we had to be with and get to know him again. He was incredibly special and there will always be a hole in our strong family without our amazing Nater.
Surviving are his parents, Richard and Marilyn Harris; siblings Tod (Lisa), Travis (Niki), Melissa (Eric) Hirschi, Ryan, Justin (Lisa), Jeremy (Amy), and Nick (Stacy); his daughter, Moran; and many nieces and nephews that he adored. Nate was preceded in death by his grandparents Grant and Stella Harris and Rulon (Babe) and Therel Ricks, along with his uncle Paul Ricks.

In lieu of any flowers, please consider donating to one of the many suicide prevention organizations in northern Utah.