Patricia Micallef Obituary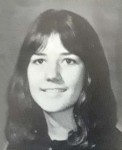 March 18, 1954
-
February 28, 2019
Born in Ogden, Utah
Resided in

West Point

,

Utah
Obituary
Patricia Anne Hammon Micallef

March 18, 1954 ~ February 28, 2019

Patricia (Pat) was born to Howard and June Hammon on March 18, 1954. She peacefully passed away the evening of February 28, 2019 after spending the day surrounded by the love, laughter, and tears of her family. We take comfort in knowing she is now with her grand-daughter Madi who she missed so much the past two and a half years.

Pat became a mother on July 2, 1974 to her only child Jocelyn. On October 21, 1979 Pat married her partner of over 40 years Lou Micallef, Pat and Lou would have celebrated their 40th wedding anniversary later this year. Together they raised Jocelyn and helped raise their three grandchildren Maddison (Madi), Zoey and Diego.

Pat was truly an original. She grew up in West Point and continued to live there her entire life. She bought her first home there and turned it into something magical. Pat loved interior design and was amazing at it. She also loved to garden and made her yard into something you wouldn't usually find in West Point. Pat and Lou even made a little river that ran along the cotton wood trees in their yard and connected to two ponds on opposite ends. Anyone who went to her house could tell she had an imagination like no other.

Pat and Lou bought several older homes and renovated them. Pat fell in love with old houses like they were people. She didn't renovate them to make them modern she did it to restore them and it was more than a hobby it was a passion.

Pat would talk most fondly of her days at Sunset Jr. High where she met her lifetime group of friends that were also family. She was a cheerleader at Sunset Jr. High from there she went to Clearfield High where she graduated in the top 10%. Pat was very smart and a person that you could go to when you needed help figuring complicated things out. She was also involved in choir and had the prettiest singing voice. Pat continued to sing, play guitar and write songs throughout her lifetime and knew so much about music in general.

Pat loved animals and her and Lou had several dogs throughout the years mostly Bassett Hounds. They had two litters of Bassett puppies which Pat took excellent care of until they were placed in homes. Her last dog Mu-Shu, a Lhasa Apso, was with her 24/7. Mu-shu passed from old age in July which now seems to be a blessing because he would not have been a happy dog without her. Pat loved all animals and always took care of them as much as she could. Pat and Lou lived out in the country and would often get cats dropped off that would end up in their garage. Pat would make Lou catch these strays and take them to be fixed and brought back where they would continue to feed them in their garage.

The words I have heard explain Pat in the last week since her passing are beautiful, kind, talented, loving, funny, stubborn and an original. People have told me how much they loved her style and Pat's style was like no other. Madi and Zoey used to say that their grandparents were the original hipsters. Pat also had a laugh that no one who had heard it will ever forget and she would get a twinkle in her eye when she was thinking about something, she found funny.

Pat was a great mother and an even better grandmother. Her grandchildren meant more to her than anything and they knew it. When Madi was born Pat had a new light about her. Pat took care of Madi while her mom was at work and a great deal of time beyond that. Pat loved Madi so much and wanted her with her always. No one could come close to comparing to Grandma and Grandpa as far as Madi was concerned and she got them all to herself until she was two and a half years old when her sister Zoey was born, and a couple years later came Diego. Madi definitely had a bit of a struggle adjusting to not being the center of attention to her grandparents but once she saw the partner in crime potential that all changed. Pat encouraged the kid's mischievous behavior and she was one of their best friends. When Madi was killed in 2016 all of our worlds changed, and Pat never stopped saying how much she missed Madi we are finding comfort in so many ways knowing that Madi has her grandma now.

Surviving are her husband of 40 years Louis Micallef, daughter Jocelyn Castillo, grand-daughter Zoey Haan, grand-son Diego Castillo. She is also survived by five brothers and three sisters: Lynn Hammon, Leota (Bob) Perkins, Linda (Dennis) Day, Susan (Merle) Sully, Earl (Janice) Hammon, Rod Hammon, Joe (Connie) Hammon and Doug (Kate) Hammon. She is also survived by a brother-in-law Gregg Thackeray and all of her much-loved nieces and nephews.

Preceded in death by her parents Howard and June, sister Kathleen Thackeray, sister-in-law Nola Hammon, brother-in-law Von Stott and grand-daughter Maddison Haan.

There will be a celebration of life for Pat on March 16, 2019 at West Point City Hall, 3200 W 300 N, West Point, Ut 84015 from 6 to 9 PM.

In lieu of flowers donations can be made to America First under Patricia Hammon Micallef Bark in the Park, Memorial. All donations will be given in Pat's name to a local rescue and designated to the rescue of homeless senior dogs.
Services
Service
West Point City Hall
3200 W 300 N
West Point
,
UT
US
84015