Yoneko Aoki Obituary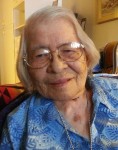 March 4, 1921
-
December 13, 2018
Born in Seattle, Washington
Resided in

Salt Lake City

,

Utah
Obituary
Yoneko was born in Seattle, Washington on March 4, 1921 to Kiyono and Otojiro Usui. She died on December 13, 2018 of causes related to Parkinson's Disease and old age.
Yoneko, being the eldest sister in the family, and her older brother, Yoshio, handled many of the family affairs from a young age since their parents spoke little English.
She attended elementary school in the Sumner/Puyallup area and graduated high school in Gresham, Oregon. During her last year of elementary school (8th grade) in Cornelius, Oregon, she and all of her brothers and sisters except for the eldest and youngest were in the same classroom as it was a one-room schoolhouse. She excelled at public speaking in high school and won several awards.
In early 1942 the internment of residents of Japanese descent began. The Usui family was sent to the Portland area Livestock Exposition Center where they were housed in the animal barns. Volunteers were solicited to go to the Tule Lake Internment center to get it ready for more internees, and the Usui family volunteered. Yoneko worked in the hospital there as an aide for $16 per month. The 9 family members lived in two rooms with one coal fired pot-belly stove for heat.
In September of 1943 the family was transferred to the Minidoka Internment Center in Idaho. Yoneko was granted release time to work in a cannery in the Ogden, Utah area. When the camps closed in 1945 the family moved to the Capitol Hill area of Salt Lake City. Yoneko was quoted in a 1985 newspaper article about the Japanese internment as saying "Do not forget about this. Those same things could happen to another group. We aren't really safe until they declare it unlawful."
In March of 1948 Yoneko married Frank Aoki of Honeyville and resided there until 2013, when she moved to the Highland Cove Senior Living Center in Salt Lake.
She and Frank ran Frank's Service in Honeyville until Frank became disabled by a stroke. She then took care of Frank for 11 years at home until his death in 2001.
Yoneko was an active member of the Honeyville Buddhist Temple, Spade and Hope Garden Club, the Brigham City Senior Center, the Box Elder County Democratic party, and spent many hours pumping gasoline and doing the bookkeeping at the service station. She also always kept up large vegetable and flower gardens at their home.
Yoneko was preceded in death by her parents, husband Frank, brothers Yoshio and Roy, two sisters who died in infancy, daughter-in-law Ann Kelsey, brother-in law Ron Toma, brother-in-law Horace Aoki and wife Kimye, brother-in-law Kiyoshi Aoki and wife Halu, sister-in-law Lily Aoki.
She is survived by her brothers, Frank Usui, his wife Susie, James Usui, his wife Nancy, sisters Terry, her husband Roy Nakawatase, Mary Toma, son Lester Aoki, grandson William, his wife Jenny Campbell-Aoki, their children Siddhana and Aila, granddaughter Miyo, her husband Jonathan Oddie, their child Nathaniel, sister-in-law Aiko Usui, brother-in-law David Aoki, sister-in-law Kikue Takahashi, her husband Frank, many nieces and nephews, and several cousins in Japan.
She resided at the Highland Cove Retirement Center for the past five years, first in the independent living section and for the past two years in the assisted living section. Many thanks to the wonderful aides and staff of Highland Cove for their care and assistance during her stay there. Thanks also to the hospice team of Tender Care for their care.
A Memorial Service will be held on Saturday, February 9, 2019 at 3:00 pm at the Honeyville Buddhist Temple, 3945 West 6900 North, Honeyville, UT.
Services
Service
Honeyville Buddhist Temple
3945 West 6900 North
Honeyville
,
UT
US
84314