Obituary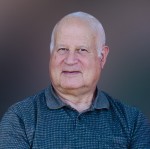 February 17, 1947
-
May 4, 2018
Born in Logan, Utah
Resided in

Brigham City

,

Utah
Obituary
A family friend once said in jest that if you looked up the word "quiet" in the dictionary, you would see a picture of Richard. Indeed, Richard Aubrey Lawrence was a man of few words, preferring to be the observer and helper, letting his own thoughts percolate until he had something worth saying. He was a man of superior intellect, keen discernment, and impressive insight. And when he did speak, people listened.
Despite his penchant for being a man of few words, those who were the beneficiaries of his wit appreciated his droll word play and his natural tendency to be a jokester and a playful tease. His children remember him fondly as "The Tickle Monster" and he helped make dinner conversations entertaining and memorable.
Richard grew up in a home filled with love and respect. This firm foundation instilled in him the disposition of approaching all people he interacted with as the children of God he knew they were. He saw the potential in others and encouraged them to strive to be their best selves. As the only boy in a family of five children, he learned the importance of women—honoring and appreciating their contributions to the world and to happy, healthy homes. He also understood the importance of being a father and how to be a great man through his own father's example. His parents were solid role models who taught him to lead a family in partnership with his wife in loving kindness and without compulsion—fostering strength and independence in their children and building their capacity to make difficult choices and withstand challenging circumstances.
With the intellectual capacity to pursue any career path he desired, he chose to attain a PhD in biochemistry with an emphasis in nutrition. His careers in biomedical research and education usually allowed him some flexibility in his schedule so that he could be home early enough to spend the time with his family that he immensely enjoyed.
He was a man who desired to serve all he could, and he had a particular desire to serve the Lord to his fullest ability. He eschewed the limelight though and preferred to work behind the scenes. He spent many years dutifully fulfilling callings in the church as the clerk to several bishoprics and stake presidencies. He didn't seek or need worldly recognition in either his occupation or his ministering. His diligence in keeping the commandments and his commitment to teaching his children the importance of living Christ-centered lives left no doubt of his sincere love of the Savior and his indomitable faith in our Heavenly Father's plan.
At the age of 71, Richard passed away on May 4, 2018, from complications of cancer. He is survived by his wife, Suzanne Marie Cowles Lawrence; five of his six children: Genevieve Lawrence McCumiskey (John), Janet Lawrence, Jared Richard Lawrence (Marydalene Wilson), Julianne Lawrence Duncan (Michael), and John Gordon Lawrence (Kathryn Allen); twenty grandchildren: Elizabeth Marie McCumiskey, John Edward McCumiskey, Norman Lawrence McCumiskey, Nina Elizabeth Rahr, Joseph Charles McCumiskey; Timothy Jared Lawrence, Sarah Elizabeth Lawrence, Ryan David Lawrence, Emily Jane Lawrence; Benjamin Joseph (BJ) Bruner, Andrew Richard Bruner, Alexandria Erin Bruner, Parker James Bruner, and William Gordon Bruner; Austin Michael Duncan; Mallory Paige Lawrence, Sadie Gayle Lawrence, Piper Suzanne Lawrence, Molly Jett Lawrence, Jackson John (JJ) Lawrence. He was greeted in the Spirit World by his daughter, Joanna Lawrence Bruner (Joseph) and his parents: Aubrey Wilford Lawrence and Sibyl Wilkinson Lawrence.
And should he die because his journey's through, Happy day! All is well!
He then is free from toil and sorrow too; With the just he shall dwell!
And when our souls shall meet again, to see the glory that we've obtained,
Oh, how we'll make this chorus swell—All is well! All is well!
---Adapted from Come, Come, Ye Saints, William Clayton
Funeral services will be held Thursday, May 10, 2018 at 11:00 a.m. at the Brigham City 11th Ward Chapel, 506 S. 200 E., Brigham City, UT.
A viewing will be Thursday from 9:30 to 10:30 a.m. at the Church.
Interment will be in the Brigham City Cemetery.
Services
Visitation
Pending
Service
Brigham City 11th Ward Chapel
506 South 200 East
Brigham City
,
UT
US
84302