Obituary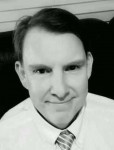 October 11, 1960
-
May 9, 2018
Born in Salt Lake City, Utah
Resided in

Ogden

,

Utah
Obituary
Click here to listen to the funeral recording.


David "Dave" Lloyd Dayton, 57, unexpectedly passed away in his sleep on the evening of Wednesday, May 9, in his home in Ogden, Utah. This may have been in an effort to avoid ever having to clean out his garage and "good" junk drawers.

Dave was born in Salt Lake City, UT on October 11, 1960 and was adopted as an infant into the loving arms of Brent and Carolee (Lloyd) Dayton. He grew up living a life of adventure, pranks, and penny-rolling.

He faithfully served a mission from 1979-1981 for The Church of Jesus Christ of Latter-day Saints in the Baton Rouge Louisiana mission. There in the deep south, he is famed for helping convert dozens of people after preaching to a Baptist congregation—southern style. Can I get an amen?!

Dave fell madly in love with Shanna Lish in February of 1985 over a BYU basketball game (go Cougars!) and married her on June 22, 1985 in the Salt Lake City Temple, where they were sealed together for time and all eternity. Together, they brought three daughters into this world who love him more than words can say, despite the fact that he took every possible opportunity to sneak up and scare the bajeebers out of them.

Denouncing his BYU roots and turning to the dark side, Dave graduated from the University of Utah with an undergraduate degree in business in 1986. Later, he returned to attend his dream school, Auburn University, to continue his education in aerospace engineering. It's rumored that he only went back to school for the discounted Auburn football tickets (Waaaaaaaaar Eagle!).

According to the professional-looking equipment we found in his closet, he once worked for NASA, Deseret News, The Associated Press, National Geographic, the FBI, tried his hand at being the Sheriff, and had a side job as a clown (not joking—there was a clown nose). The NASA one was legitimate though, as far as we can tell.

Dave came alive when he served other people. As a counselor in his LDS bishopric, he was often found hiding out in Relief Society, taking food to the hungry, and speaking absolutely awful Spanish (confirmed with a source) to the Spanish-speaking members. Meetings that he was supposed to conduct often started late because he got sidetracked making sure everybody he encountered on his way felt welcomed and loved. He cared for and served all those around him and, above all, truly loved the Lord.

Dave leaves behind a wife, a mother, three daughters, four grandchildren, five siblings, and about six hundred empty Nalgene water bottles, for which he was an unofficial spokesman. The family fully expects to receive royalties for his efforts in Nalgene's behalf.

Private services previously held.