Obituary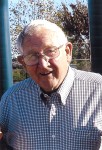 Stanley Edward
Ash
Sailsbery
September 24, 1935
-
October 9, 2018
Born in Pueblo, Colorado
Resided in

Ogden

,

Utah
Obituary
Stanley Edward Ash Sailsbery Jr. returned home to his Heavenly Father on Tuesday, October 9, 2018. Eddie was born in Pueblo Colorado on September 24, 1935, to Stanley Edward Sailsbery and Mildred Virginia Sisson.
Click here to listen to funeral recordings: Stanley Edward Ash Sailsbery 09/24/1935 10/09/2018 01/13/2019 Get Embed Code


Eddie grew up in Stockton, California. He graduated from Clarksburg High School in West Sacramento. at age 19, Eddie served his country, in the US Army. he was a member ot the 10th Field Artillery Battalion. during his time in the military, Eddie worked with field artillery and was a paratrooper, and was the recipient of a Good Conduct medal.

While attending Clarksburg High, Eddie met Wanda Watters. They were married for 16 years, and became parents to Johnny Edward, Robert Dale, and nancy Renee. At the end of their marriage, Eddie relocated to Washington.

While in Washington, Eddie met and fell in love with Patricia Mae Tooley. They married may 17, 1979, and were sealed for time and all eternity in the Salt Lake LDS Temple, on their first anniversary, May 17, 1980. With this new marriage, Eddie chose to take on the role of father to Kelly Troy, Jennie Vaun, Timothy Trent, David Scott and Peter James. He later adopted Peter. Eddie and Patches have shared many adventures. together, they have created a life in Washington, Alaska, Idaho and Utah.

Eddie was a master plumber and steam fitter by trade. His career started out working alongside his father as an apprentice. He soon advanced to a Journeyman, and later became a steam specialist, where he worked at the University of California in Davis, CA. Using his craft as a plumber and steam specialist Eddie owned his own company for several years. Some would say work was one of Eddie's hobbies. He worked hard to provide for those he loved.

Eddie enjoyed being in the outdoors. He enjoyed hunting, fishing and camping. Eddie could build anything out of everyday items, and has made some beautifully crafted wood items. Eddie came from a musical family and played the guitar. He also enjoyed sitting with family playing games. One of his greatest joy was spending time with family.

Eddie is a member of The Church of Jesus Christ of Latter-day Saints. it was during his time in the army that he was taught the gospel. Eddie served as a High Councilman while in Alaska. Eddie and Patches served a mission together in the Colorado Denver South mission. They continued to serve together as missionaries in the Gunnison Prison and the San Pete County jail. Eddie was quick to aid anyone in need.

Eddie treated others with kindness, was soft spoken, and had a gentle heart. He appreciated the small things in life. His greatest joy came from his family and church service. His message to all would be to have: Tolerance, Kindness, Acceptance and Faith.

Eddie is survived by his wife, Patricia Mae (Patches); two sisters, Donna Lewis and Mary West; his children, Johnny (Ione) Sailsbery,, Robert Sailsbery, Nancy (Greg) Radford, Peter Salisbery, Troy (Regina) Lee, Jennie (Mark) Gabel, Timothy (Glenda) Lee, David (Karen) Lee, 27 grandchildren and 10 great-grandchildren.

Eddie was preceded in death by his parents, Stanley and Mildred Sailsbery; his brother, Frank Sailsbery, and a grandson, Tyler Trent Lee.

The family would like to express sincere appreciation to Ann and Maryann from Hospice, and all the many caring nurses at Heritage Park Care Center.

Funeral Services will be held Saturday, October 13, 2018 at 11:00 a.m. at Myers Mortuary, 845 Washington Blvd., Ogden UT 84404. Interment will be at the Warren-West Warren Cemetery.
Services
Visitation
Myers Mortuary of Ogden
845 Washington Blvd.
Ogden
,
UT
US
84404
Service
Myers Mortuary of Ogden
845 Washington Blvd.
Ogden
,
UT
US
84404
Burial
Warren/West Warren Ward
6700 West 700 North
Warren
,
Utah
Weber
84404