Obituary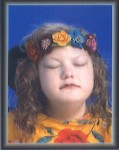 June 24, 2005
-
October 10, 2018
Born in Ogden
Resided in

Ogden

,

Utah
Obituary
Tabitha Cathryn Jensen
June 24, 2005 - October 10, 2018

Click here to listen to funeral recording :

Ogden - Our sweet Tabitha Cathryn Jensen, left this world peacefully at home, to join her sister and Heavenly Father on Wednesday, October 10, 2018. She was born June 24, 2005 in Ogden.
Tabitha endured so much in her short 13 years. Her precious spirit was confined to a broken body, that is now whole. She and her sister, Bailey, shared the same diagnosis and were the strongest, bravest little girls I will ever know. They taught us how to love and not to take a single thing for granted! They had no idea they had special needs and were involved in everything we did from Dippin'dots ice cream to Disneyland. Both my girls will be "forever 13."
I have this picture of them in my head, running toward one another and falling into a long overdue embrace. They have missed each other terribly and have always shared a special bond that only they could understand.
Her mom, Melissa Jensen, loved and cared for her every single day. Countless hours were spent making sure that Tabitha was happy, comfortable and looking beautiful. Tabby enjoyed "mommy time" and getting her finger and toenails painted, listening to music and being held. Though lil' miss sassy didn't love her hair done, she knew that it was a given to have a pair of braids topped with bows and matching fleece socks. Her bonus mom, Megan (who knew her better than most) will miss giving Tab her baths. Tabitha loved listening to Meg sing Disney songs to her while she got her hair washed and then lying in bed watching movies together. Gunner and Corbin were the best, most devoted big brothers! The boys included her in everything they did! She rarely missed a chance to cheer them on at their football and basketball games. She loved watching and listening to them and knew, every day, how proud they were of her - telling everyone, "that's my little sister!"
Tabitha is also survived by her father, Chris Jensen who loved spending his time with her - from driving to Logan to see the animals at Willow Park to strolls through the mall. She loved cuddle time with Mama H (Heather) and snuggles with her step/half-brothers Jaxon, Dylan and Trever. Even though she didn't have much time with her half sis, Sayler, the time they did have they were always holding hands. Tabitha also enjoyed visiting Grams and Pop-Pops and getting showered with hugs, kisses and loves.
Tabby had a special place in everyone's heart! Including grandparents who loved her dearly - Vern and Nick Engstrom of Michigan, Randy and Cathy Jensen of Lindon, Kathy Boelter of Roy and Kim Geertsen of West Haven; as well as many aunts, uncles and cousins.
Funeral services will be held at Myers Ogden Mortuary, 845 Washington Blvd. on Friday, October 19, 2018 at 11 a.m. A viewing will be held Thursday, October 18 from 6 to 8 p.m. at Myers and also prior to services at 10 a.m. Interment at Ogden City Cemetery.
Special thanks to her many dedicated doctors, nurses, therapists, teachers and friends who have loved and cared for her. An extra special thanks to her sweet school nurse Paula, with whom she had a special relationship.
Services
Visitation
Myers Mortuary of Ogden
845 Washington Blvd.
Ogden
,
UT
US
84404
Service
Myers Mortuary of Ogden
845 Washington Blvd.
Ogden
,
UT
US
84404
Burial
Ogden City Cemetery
20th and Madison
Ogden
,
UT
US
84404