Obituary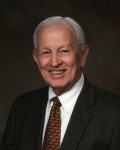 Dr. Farrell
Marlon
Calton
February 17, 1930
-
November 2, 2018
Born in Salt Lake City
Resided in

Ogden

,

Utah
Obituary
Dr. Farrell Marlon Calton
Click here to listen to funeral:

Dr. Farrell Marlon Calton, our revered father, grandfather, great grandfather and uncle passed away on Friday November 2 2018. He was 88 years old. Farrell was born on February 17, 1930 in Salt Lake City, Utah to Thelma Larsen and Marlon Calton. The eldest of two sons, Farrell and his brother Robert were children of the Depression, which, despite its difficulties, imbued him with numerous honorable qualities that would influence his life throughout its entirety.
Farrell attended Jefferson Elementary School, Lincoln Junior High School, and South High School in Salt Lake City. Farrell's ethos of hard work and service to family developed at the tender age of 12 when he got his first part time job as the janitor's assistant at his school in order to lessen his parents' financial burden. From that day forward Farrell would not stop working for the betterment of his family until his body would physically not allow it. He worked as a janitor, wool stomper, theater usher, and ZCMI salesman; there was no job beneath Farrell and he taught us that there was nothing more honorable than a hard day's work.
Farrell enlisted in the Utah National Guard while in High School. He trained at Fort Sill, Oklahoma as an artilleryman. With the outbreak of the Korean War, Farrell was activated in the U.S. Army and served as a forward observer attached to an observation battalion inside North Korea. Farrell was awarded the Korean Service Medal, United Nations Service Medal, and the Purple Heart for interrupting an ambush on his outpost. Farrell's quick thinking saved the lives of his fellow soldiers that night, but he was struck by an enemy grenade and suffered severe, life threatening injuries. Farrell was fiercely proud of his military service and honored those he served with by ensuring that his children and grandchildren were well educated on the brave and selfless sacrifice made by the 302,483 Americans who fought during the Forgotten War. In 2014 Farrell was awarded the Ambassador for Peace Medal by the South Korean Ministry of Patriots and Veterans Affairs.
Just days after being honorably discharged from the Army, from a hospital bed at Letterman Army Medical Center in San Francisco, Farrell enrolled at the University of Utah. Using his GI Bill to fund his education, Farrell ambitiously pursued a future career as a doctor. While at the U he excelled academically, joined and then became the President of the Sigma Nu Fraternity, and most importantly met Patricia Cooney, his forever love and future wife. While Pat wanted to marry right away, Farrell's prudence kept them waiting three years, until he was accepted into medical school. They were married on July 21, 1955 in Ogden, Utah. They would go on to have five beautiful, smart children whom they were enormously proud of.
After graduating from the U with honors Farrell and Pat moved to St. Louis, Missouri where he attended the Washington University School of Medicine. Farrell made the decision to specialize in cardiology because his mother had suffered from coronary artery disease. Farrell continued his medical education with an internship and residency in internal medicine, including four years training in cardiac and pulmonary disease at the University of Utah College of Medicine. In 1965 Farrell headed the newly established diagnostic cardiac and pulmonary laboratories at Dee Memorial Hospital. Under Farrell's leadership at the McKay-Dee Hospital the McKay-Dee Heart Institute became the second largest in the state of Utah. Farrell was a generous physician and frequently traveled to Indian Reservations of the Southwest to treat and diagnose patients with tuberculosis. And he was never too busy nor too tired to accompany his children and grandchildren on any midnight emergency room visits.
Farrell was an unassuming man who worked without the expectation of praise, achieved great success without pomp, and loved without condition. He spent the last 15 years dutifully tending to the every need of his wife and two special daughters, Sally and Ann. He worked tirelessly to provide his children and grandchildren with everything that he did not have growing up- he put in a swimming pool to ensure his grandchildren would become good swimmers. We snow skied, water skied, played every sport, traveled, and built extensive libraries. Because of Farrell we lead lives of privilege that allows us to take risks, test our strengths, and develop our interests without being tethered to the fear of failure.
The loss we feel at Farrell's passing is enormous, but we take comfort in the precious memories we made with him and valuable lessons we learned from him. He left behind a legacy of hard work and devotion to family and we will forever draw strength from his distinguished example.
Farrell is survived by four children Susan (Doug) Allen, William (Jill) Calton, Thomas Calton and Ann Calton; 11 grandchildren, and 5 great grandchildren. Farrell was preceded in death by his wife Patricia Cooney Calton, daughter Sally Calton, and brother Robert Calton.
Services in honor of Farrell will be held at Myers Ogden Mortuary, 845 Washington Boulevard. The viewing will take place on Monday November 19, 2018 from 6 to 8pm and Tuesday November 20 from 10 to 10:40am. Funeral services will be on Tuesday November 20, 2018 at 11:00am.
We would like to express our heartfelt gratitude to Karen Russell and Nola Fillin for their loyal and kind friendship to Farrell and his family, and to Carly and Alexis at Hidden Valley Assisted Living for their compassionate care.
Services
Visitation
Myers Mortuary of Ogden
845 Washington Blvd.
Ogden
,
UT
US
84404
Service
Myers Mortuary of Ogden
845 Washington Blvd.
Ogden
,
UT
US
84404
Burial
Washington Heights Memorial Park
4500 Washington Blvd.
Ogden
,
UT
US
84403