Obituary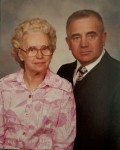 September 21, 1921
-
November 3, 2018
Born in Bancroft, Idaho
Resided in

Brigham City

,

Utah
Obituary
The old outfitter has gone on. Sterlin Corbett Nielsen has moved ahead to set up camp and
wait for us who remain. He died in Brigham City, Utah on November 3, 2018. He was the last
surviving member of his family. He was preceded in death by his wife Vergie, son-in-law Larry and granddaughter Rebekah.
He was born September 21, 1921 at home in Bancroft, Idaho. He was the second of 5 children
of James Christian Nielsen and Fanny Irene Corbett. As a young boy he helped with the draft horses on the family homestead. His love of horses lasted a lifetime. He spent 25 years as an outfitter, with his partner and friend Fred Rushton, leading hunting parties and family outings into the Scapegoat Wilderness.
During the Depression in 1929, at age 7, Sterlin moved with his family to Montana's Sun River
Valley in response to the Great Northern Railroad and U&I Sugar companies recruiting of capable farmers for the purpose of raising sugar beets.
He attended Vaughn Grade School and graduated from Simms High School in the class of 1939.
When he saw Vergie Christensen for the first time in elementary school he knew she was the girl he would marry. On November 19, 1942 he was married to his childhood sweetheart, braving a frigid snowstorm to be sealed in the Cardston Alberta Temple. They were married 74 years. She passed away in July 2016.
Together they weathered many challenges over the years including the devastating flooding
which ravaged the state of Montana in 1964. In addition to the personal losses in the family home and farm, there was the destruction in the housing development they had financed. This trial revealed Sterlin's resilience and personal integrity. He and his brother Jim spent many years paying off their creditors, rather than declare bankruptcy.
Their home was one of the iconic national historical sites in the Sun River Valley: The Nielsen
Farm (Vaughn Homestead/Couch Ranch) with its 3 story, brick Georgian Revival "Big House", a place of hospitality and family gatherings. This was a 3 generation household and multiple family farm with warm extended family ties. Here children, nephews, and grandchildren learned from him a strong work ethic. Sterlin lived on the farm for 87 years.
Sterlin and Vergie had 7 children: Sheila (Larry) Kolste, Belt, MT; Sherry (David) Tippetts,
American Fork, UT; Cathie (Richard) Upstill, Orem, UT; Becky (Dave) Smith, Fairfield, MT; JaNae
(Brad) Opheim, Vaughn, MT; Kirk (Sheri') Nielsen, Brigham City, UT; Shane (Holly) Nielsen, Salt Lake City, UT. Their posterity includes 39 grandchildren, 89 great-grandchildren, and 11 great-great-grandchildren, for a total of 146.
Sterlin was a faithful member of the Church of Jesus Christ of Latter-day Saints. He served and
sacrificed all his life, donating his time, energy and money to the church, and exemplified going the extra mile in his callings. He spent 50+ years in scouting, where he impacted the lives of countless boys and left a family legacy of 22 eagle scouts. He was committed to missionary service, including serving a mission with his wife among the Navajos in New Mexico. Family missionaries include 2 sons, 2 sons-in-law, 12 grandchildren, and 11 great-grandchildren, for a total of 27.
In addition to his more than 50 years as a dairy farmer, he spent 32 years driving school bus, and 22 years serving on the Vaughn School Board. He played trombone in a Dance Band for 15 years.
His love of music continued in the following generations. Almost all of his posterity have studied a musical instrument: 61 keyboard, 5 percussion, 21 brass, 23 woodwind, and 20 string.
Sterlin died at the age of 97, having lived almost a century. He was born in a time of home
remedies before Band-Aids and penicillin. His life spanned land phones with party lines to cell
phones; from everything sold through Sears Catalog to the Internet; from a time of draft horses and Model A Fords to interstellar space flight. He lived during a time when people worked harder and did with less. During his long life he left a legacy to his children of the value of hard work, the importance of integrity, the appreciation and enjoyment of nature, the love of music, and the impact of choosing a great spouse.
The family would like to express their thanks to family, friends, and caregivers who visited and
looked after dad as his health declined.
Funeral Services are provided by Myers Mortuary of Brigham City, Utah.
The funeral will be held Saturday, November 10, 2018 in Montana at the Sun River Valley Church of Jesus Christ of Latter-day Saints, 845 US Highway 89 at 11:30 am with a viewing prior to the service at 10:00 am.
Interment will follow in the Sun River Cemetery, 70 Sun River Cascade Rd, Sun River, MT.
Services
Visitation
Sun River Valley Ward
845 US Highway 89
Sun River
,
Montana
59483
Service
Sun River Valley Ward
84 S US Highway 89
Sun River
,
Montana
59483